Reverend Wayne Barnett Quick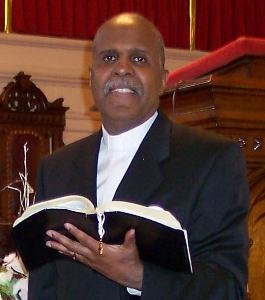 Reverend Wayne Barnett Quick is a lifetime member of the historic Vermont Avenue Baptist Church.

Having been baptized at age eleven by the late Reverend C. T. Murray, Reverend Quick went on to become a devoted servant of God and active member of the church.

He has been and is currently a member of many clubs and organizations of the church:

The Church Chancel Choir and the Menís Chorus; the Sunday School and the former Baptist Training Union; the December Fellowship; and the Deacon Board.

In 1993, the late Rev. Dr. John R. Wheeler selected him to co-chair The Vermont Avenue Baptist Church Community Youth Club, a church outreach program in fellowship with the District of Columbia Public Schools.

Working in coordination and conjunction with public school educators, the Community Youth Club opened the door of the church to community youth and provided a multiplicity of social, cultural and religious activities and resources.


Reverend Quick strives to draw upon his vast church experience and a distinguished professional career in public service in his response to the Great Commission.

God has gifted him with a preaching, teaching and service-oriented ministry with a strong social, cultural and humanistic emphasis and ethnic relevancy.

He has a Master of Arts degree in Religious Studies from Howard University School of Divinity, a Bachelor of Arts degree in Administration of Justice and an Associateís degree in Public Administration from the University of the District of Columbia.


After receiving his call and upon his successful completion of seminary preparation and study, Reverend Quick became licensed to preach and to exercise his gifts in the work of Ministry on March 7, 2006, and was ordained to the Gospel Ministry on December 13, 2008, by the Vermont Avenue Baptist Church under the pastorate of Reverend Cornelius R. Wheeler.


In addition to his ministerial duties, Reverend Quick is a noted public safety and law enforcement policy analyst and consultant.

He has over 35 years of law enforcement, public safety and commercial security experience.

He served 22 years with the Washington DC Metropolitan Police Department.


A native Washingtonian, Reverend Quick was born and raised in the Petworth neighborhood of the city.

He is married to Deaconess Marie Bowe-Quick,

Ed.D.

, a retired public school educator and administrator.

They reside in Mitchellville, Maryland.


Back To Ministers Page